Map Unavailable
Date/Time
Date(s) - 05/01/2023 - 11/01/2023
10:00 am - 4:00 pm
Categories
Email or call AOTSS if you are interested in joining an seminar forming with 2 or more participants or scheduling your own group seminar. The internet trainng can be customized to your learning schedule to complete the 15 CE hours.
With this training, you will have everything (training, assessment tools and forms, overlays, videos, a research packet and marketing materials) to become a certified irlen Screener.
You also have options to additional mentoring CE hours to support your learning and experience. You have a bachelors degree of higher to take this training. Submit a copy of your resume to shoshana@aotss.com upon registration. This training is approved for CEUs and PDUs by the American Occupational Therapy Association (AOTA APP) & MSDE (Maryland State Department of Education), as well as many state licensing boards for OTs and educators. AOTSS will provide necessary documentation for other professionals for CEUs (psychologist, social workers, speech therapists, physical therapists, and rehabilitation professionals).
Irlen Screener Certification training enables you to be part of an international network of educators , medical, and service professionals who can provide irlen screening assessments. The irlen screening will determine, more accurately, symptoms and interventions to address scotopic sensitivity syndrome, a sensory processing disorder that is caused by light sensitivity and sensory stress which affects cognitive, physical and emotional function in children and adults.
Scotopic sensitivity, or irlen syndrome, is also known as light sensitivity, photophobia, visual dyslexia, and visual sensory stress. Irlen spectral filters or colored overlays provide immediate benefits and relief in the testing session for reading (dyslexia), math (dyscalculia), migraines , computer stress, and light sensitivity. Environmental modifications and accommodations can create increased benefits and greater levels of improvement and functional performance. Documentation of symptoms and benefits may be used for specific IEP, 504, and ADA accommodation plans. See www. irlensyndrome.org for supporting, evidence-based research from universities, public and private schools, special education, Cornell University neuroscience department , the USA military , prisons, ADD/HD, brain injury rehabilitation centers, and programs service people with autism, migraines, and children and adults with learning and literacy challenges, (dyslexia, dysgraphia, dyscalculia, etc).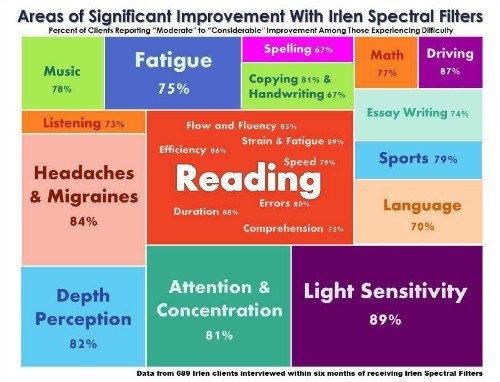 Bookings
Do you already have an account with us?
Sign In
Log in if you already have an account with us.