The Impact of Sensory Stress on Learning, Attention, & Behavior
Irlen Syndrome, also known as photophobia, scotopic sensitivity or sensory processing disorder, is a major issue affecting tens of millions worldwide. It is often misdiagnosed or undiagnosed entirely and, if left untreated, can affect literacy, attention, behavior, emotional health and stress management. Irlen Syndrome in children and adults is often misdiagnosed as dyslexia, dysgraphia, dyscalculia, anxiety, ADD/HD, vision problems like convergence insufficiency, migraines, accommodative stress, binocular vision, fatigue, and depression. If you or a loved one suspect underlying problems may be due to Irlen Syndrome, there are free self tests to target symptoms that can easily be helped with specific interventions. A specially trained therapist, physician, or educator can screen and diagnose this issue in one session with immediate, observable results, eliminating costly and time consuming guesswork. If you experience sensory stress when reading, working at the computer, driving, or functioning under bright or fluorescent lighting, read on!
International Irlen Syndrome Awareness Week
Irlen Syndrome Awareness Week is taking place from October 15-19, 2018 in over 100 countries. Irlen Syndrome affects 15% of the general population and over 70% of people with reading, learning difficulties, ADHD and autism, depression, anxiety, chronic headaches and migraines, concussion, & other brain injuries.

During Irlen Syndrome Awareness Week, Certified Irlen Screeners, Diagnosticians, and people with Irlen Syndrome will be providing free training sessions, screenings and ideas for adapting your environment to minimize symptoms. Symptoms include:
Light sensitivity
Reading difficulties
Attention and concentration difficulties
Eye strain
Fatigue
Headaches and migraines
Print and environmental distortions
Problems with depth perception & motor coordination
Computer stress
Problems copying and sustained writing
Problems staying focused
Join us for International Irlen Syndrome Awareness Week and GET EDUCATED!!!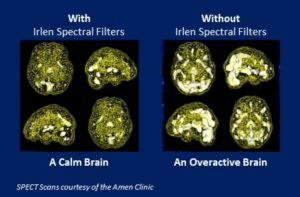 Sensory Stress and the Brain
Sensory stress plays a huge role in physical and mental health, job and educational performance, mental clarity and memory, emotional balance, stress management and much more. A high correlation between brain injuries, self regulation, learning difficulties, PTSD and stress management has been found through extensive research in military populations and prison schools.

Sensory stress often manifests itself in a variety of symptoms including neck pain, high blood pressure, intolerance for others, mild depression and backaches. With so many stimuli around the average person, it's understandable that people are feeling a little on edge. What contributes to over-stimulation?
Conflicting fields of radio, television, microwave and other electronic transmissions
Traffic pollution
Sounds in the environment that are difficult to filter such as loud music, crowds, machinery, A/C, humming from fluorescent lighting
Sounds from radio & televisions
Pressures at work or school and test anxiety
Environments with fluorescent lighting and other stressors
Living in 2018 for many people means living surrounded by constant over-stimulation and stress. When one stressor is removed then other stressors may be tolerated more easily, resulting in calmness and improved functioning. Most people don't realize that by altering their environment and using technologies carefully related to individual issues, stress could be drastically lowered. Irlen Spectral Filters combined with easy to implement interventions can provide profound and immediate long term relief and improvement in job and academic performance.
Learning Disabled, Athletes, Veterans and Prison School Populations May Suffer from Undiagnosed or Misdiagnosed Irlen Syndrome
In these intense work environments, many people have experienced traumatic brain injuries, concussions and sensory overload. Irlen Spectral filters can help veterans and workers who have experienced:
Light sensitivity
Chronic headaches and migraines
Vision distortions and stress
Trouble with reading, math, handwriting or reading music score
Depth perception problems especially on stairs, uneven surfaces, sports performance and driving
Coping with Sensory Overload
Complete an Irlen syndrome symptom checklist & self test. Obtain an irlen screening and diagnostic testing.
Notice your symptoms in stressful situations like crowds and places like shopping malls, classrooms, lectures or conferences, driving in traffic and nighttime, and where there is a large amount of sensory stimuli.
Complete tasks like errands and shopping earlier in the day and earlier in the week, when stores are less crowded and you are less stressed.
Get plenty of sleep, rest, pace yourself, and hydrate with filtered or spring water.
Monitor your pain, fatigue and stress levels and adjust your activities accordingly.
Avoid caffeine, nicotine and alcohol when possible, especially if they exacerbate symptoms.
Carry earplugs with you to block out noise.
Call us for a FREE phone consultation or to schedule a FREE seminar at your work, school organization.