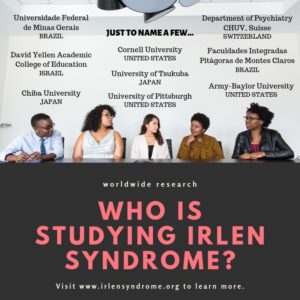 Annual International Irlen Syndrome Awareness Week is being observed in over 70 countries every year during the third week in October. During this week Irlen Screeners and Diagnosticians, Educators, Medical Professionals, and Irlen Clients have volunteered to educate the public about scotopic sensitivity syndrome or Irlen Syndrome, a sensory processing and stress-related condition affecting over 14 % of all children and adults.
Baltimore City. MSDE Maryland State Department of Education and government agencies around the USA and worldwide recognize Irlen Syndrome Awareness Week, a vital reminder to all of us how millions of lives are adversely affected by light sensitivity especially to bright or fluorescent lighting, computer monitors and white pages with black text or numbers. Proper diagnosis by a trained professional is crucial and every school, medical clinic and work environment could have a trained professional who can provide Irlen Screenings (merely a 15-hour training given around the world). See www.irlensyndrome.org and www.irlen.com for a testing and training site near you. What should everyone know about Irlen Syndrome?
Irlen Screenings are now available online. To schedule an irlen virtual screening (1.5 hours on ZOOM) call 410-358-7269 or email shoshana@aotss.com. Special COVID discounts are available, as well as, group and family discounts. Geographic location is not an limitation with irlen virtual screenings.
Lucy Lawless, Actress, Passionate Advocate for Irlen Testing, and Mother of 3 Children with Irlen Syndrome
Irlen Syndrome Is More Common Than You Realize
While Irlen Syndrome is statistically more common than heart disease, autism and asthma, many people have never even heard of it. It is often misdiagnosed as a learning disability, vision problem, dyslexia auditory processing issue, ADHD or a psychiatric issue. Tragically, a lack of treatment leads to many individuals with Irlen Syndrome experiencing feelings of isolation, academic and professional failure and physical and emotional symptoms. People with Irlen Syndrome can often go a lifetime without being properly diagnosed and appropriate intervention implemented.
Paddy Considine, Actor, Producer, and Director, Passionate Advocate for Irlen Testing, and Consumer with Irlen Syndrome
The good news is it is never too late! A 14-year-old boy entered my office unable to read greater than a second-grade level, yet had a very high IQ, even after years of reading tutoring and resource room. He walked out of my office 4 hours later reading above grade level. Irlen Method was able to calm his brain down so letters and numbers stopped looking as if they were moving, blurry, and the page sparkling. His peripheral vision improved and he was less fatigued and more accurate with sustained attention. Mom reported after wearing the Irlen tints for two weeks, his mood and self-esteem improved and his teachers were reporting near-miraculous classroom performance in reading, writing, math and testing. He was more alert and responsive and seem to enjoy school for the first time.
Dave Asprey, Health and Wellness Coach and Founder of Bulletproof Executive, Former CEO of Silicon Valley Tech Company, and Irlen Syndrome Client
There Is Hope
Thankfully, there are low cost and immediately effective interventions that can alleviate the symptoms of Irlen Syndrome. At Abilities OT & Irlen Diagnostic Center, we specialize in Irlen screenings and diagnostic testing. Irlen Labs in CA and Australia then create custom Irlen tinted RX or No RX PLANO. Irlen tinted contact lenses can also be provided once a stable tint is achieved. Millions worldwide use Irlen Colored Overlays, a $7 colored plastic sheet used over computer monitors, E-readers and books.
Award-Winning Video by our Irlen client, Drama Major at Carnegie Mellon University and Passionate Advocate for Irlen Testing
What Is Irlen Syndrome?
A visual-perceptual disorder that is an issue with the brain, not an issue with the eye as often believed
A disease that affects males and females equally but can have a genetic component and manifest in generations of family members in different ways: dyslexia, math difficulty, ADD, migraines, anxiety, depression, fatigue, vision problems, convergence insufficiency, depth perception problems, handwriting problems, poor sports performance, driving problems, etc.
A condition that can be inherited or acquired through injury, illness or a medical procedure. Environmental and biological stressors contribute to functional problems.
What Are the Symptoms of Irlen Syndrome?
Light sensitivity
Trouble reading
Slow reading rate
Difficulty paying attention
Eyestrain
Fatigue
Poor depth perception
Music score and math reading
Anxiety
Depression
Migraines and headaches
Muscle stiffness
Motor coordination problems
And other stress-related conditions
What Can Trigger Irlen Syndrome?
Bright and fluorescent lighting
Glare
Bright colors
High contrast paper, images or printing
White background on powerpoints, books, electronic devices
Patterns and stripes
Small details
The amount of text or print on a page
Font style or format
Computer monitors
Allergies such as mold and food allergies
Copying from a board or book
Watching movies or TV
Driving especially on hazy days or at night
How Can Those With Irlen Syndrome Be Helped?
First, you should make an appointment with Abilities OT & Irlen Diagnostic Center. We will start by assessing your risk factors and completing a screening. Next, we will experiment with overlays to see how your symptoms can be lessened. You will be fitted with custom spectral filters. We can also help you to explore additional accommodations and modifications.
From Helen Irlen, Founder and Inventor of Irlen Method:
Shoshana Shamberg is a gifted and talented Irlen Diagnostician. She is passionate about helping children and adults. Over the many years that she has first been a screener and then became in Irlen Diagnostician, her main interest has been to educate the public so that no individual with Irlen Syndrome would need to continue to struggle needlessly.
She has made it her goal to spread information about Irlen Syndrome and Method in various ways, including her newsletters, international presentations, and webinars, which are always professional and provide invaluable information. I consider Shoshana to be one of finest, most knowledgeable, and passionate of my many diagnosticians who are spread around the world.
When Shoshana presents at conferences including many of the Irlen International Conferences, which was just held in Manchester, UK. Her presentations receive glowing reviews. She has been asked to speak at every Irlen Conference that has been held over many years. For the clients and parents who have had the opportunity to be tested or have a family member tested by Shoshana, it's easy to recognize her special gift for testing, knowledge, and compassion. Her occupational therapy and special education training are invaluable to her clients as well.
During Irlen Awareness Week, I'm reaching out to see if you might be interested in helping us spread the word about the Irlen Syndrome Foundation's "Give Change" campaign. The foundation is working to raise $15,000+ to provide Irlen testing and lenses to children and adults around the world. The ISF scholarships make sure that people who need help are able to get help. Over 500 veterans with traumatic brain injury and migraines have been profoundly helped after years of trying to find a solution. Any school who has an Irlen Screener on staff can be part of our research and Irlen Foundation will provide funding. Contact Shoshana if your school is interested in this amazing opportunity to help struggling students.
ISF has given out over $60,000 in scholarships since they first began their scholarship program just 3 years ago, but every year they receive almost twice as many applications for help as they are able to fulfill. People can learn more about how to Give Change here: https://www.irlensyndrome.org/givechange/.
Is Irlen Method Costly or Cost-Effective?
Many clients have tried numerous different therapies before hearing about the Irlen Method. Within a two year period, one client paid the following amount of money and the child was still struggling:
Reading Remediation Tutoring Program, the 15-week program was $15,000 and college students worked with the child. Tutoring 3 times a week ($150 per week) for an entire school year could cost up to $29,000.
Neuropsychiatry evaluation for $4,000 which determined the child had a
reading problem and referred the parent for VT.
Vision Training initial evaluation was $300. The parent paid an additional $150 per week for VT for 27 weeks at a total cost of $4,780. After VT provided some benefits the child's visual stress returned. Had Irlen Spectral Filters been tried initially, the need for VT may have decreased or not needed at all, saving thousands of dollars and hours of time. Irlen filters work immediately in one testing session so no guesswork and very cost-effective.
Private school reading resource room in a regular educational program: additional cost: $3000-8000 per year
Special education school tuition: $15,000-50,000 per year, as compared to $5000-25,000 per year for regular education private school tuition.
Irlen Method Screening and Diagnostic testing is so simple with immediate benefits and us supported by 35 years of evidence-based research, can save precious time and money for those struggling with learning and visual stress. It is a shame not to check it out!!!
Contact Us Today
To learn more about our accessibility consultations and injury prevention services, call us today at (410) 358-7269. To get started at home, complete a pre-assessment for Sensory Processing Disorder and take our Sensory System Self-Test, schedule a free phone consultation, and learn more about the Irlen screening process, Irlen diagnostic testing, Irlen re-tint testing, and who we help. To learn more about how you can use the Irlen Method where you work, see our Professional Toolkit.